Whatever reason you run for, it's worth it.
Do you love to run? Do you love to run long distances (or would you love to learn to love it?)
If you'd asked me this question a few years ago, I would've considered one mile a long-distance run. I would've said I hate running with a passion. But things change.
This morning I woke up at 6:30 and ran five miles on a track, and then a mile's worth of stairs. I'm not saying this to brag. It shows running is important enough to me that I'll wake up before the sun's up to do it.
There's something empowering about being able to say, "I started my day running for an hour straight."
---
---
For me, running is a hobby. For others, it's a livelihood. They make their living out of running. You truly have to love what you do to make running your job.
The most I've ever run at one time is 13.1 miles, or half a marathon. In some ways, to me, 26.2 miles seems impossible. That said, at one point 13.1 miles seemed impossible.
And there are such things as ultramarathons, which can be 150 miles long. That's like running from New York City to Scranton, Pennsylvania … plus another marathon. Isn't the human body incredible?
For me, running is a solitary activity. It's just my music and me, maybe a podcast. Sometimes it gets tough. None of my friends do these kinds of distance runs, if they run at all. Some days I need an extra boost to remind me why I run: to challenge, and consequently better myself. I know I'll never be a Genzeb Shumi, or my personal idol, Portia Woodman.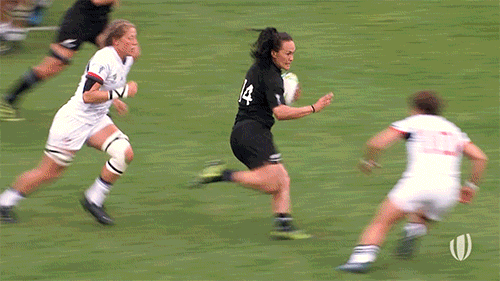 ---
---
But I like to learn from them. Professionals became the best for a reason — because ultimately, they wanted to be. And I want to be better. I want to be ready for the day the marathon comes and I need to step up.
It always helps to look to the pros. So to get you up from the couch and feeling motivated and inspired to run (and actually enjoy it), take a look at the best motivational quotes from the world's greatest athletes of all time.
---
1. Get it done.
"Don't complain. Just work harder"—Jackie Robinson
---
2. Add Rhianna's "Work" to your running playlist, if it isn't already on it.
"The only place success comes before work is in the dictionary"—Vince Lombardi
---
3. You can accomplish so much more than you think.
"To watch people push themselves further than they think they can, it's a beautiful thing"—Abby Wambach
---
4. Because the best knows best.
"If you want to be the best, you have to do things that other people aren't willing to do"—Michael Phelps
---
5. You have so much to show the world.
"I am gonna show you how great I am"—Muhammad Ali
---
6. Failing is an opportunity to get back up and be even better.
"I really think a champion is defined not by their wins, but by how they can recover when they fall"—Serena Williams
---
7. With the right attitude, your weakness can be your strength.
"No one feels strong when she examines her own weakness. But in facing weakness, you learn how much there is in you, and you find real strength"—​Pat Summitt
---
8. Your future self will thank you.
"Go until you fail and then do one more, that way you know that you just got stronger"—Tobin Heath
---
9. And don't let any clouds discourage you.
"The sky has no limits. Neither should you"—Usain Bolt
---
10. Amazing things can happen if you never give up.
"I always believed. And when you do that, life can get unbelievable"—Jessica Ennis-Hill
---
11. Welcome the butterflies.
"I've never been afraid of big moments. I get butterflies … I get nervous and anxious, but I think those are all good signs that I'm ready for the moment"—Stephen Curry
---
12. Your mind is your only true obstacle.
"That wall is your mind playing a trick on you. You just need to say, 'One more step, I can do this. I have more in me.' You'll be so proud of yourself once you push yourself past your threshold"—Kerry Walsh
---
13. Difficult days are so worth it.
"Hard days are the best because that's when champions are made"—Gabrielle Douglas
---
14. Just because you're "ordinary" doesn't mean you can't do extraordinary things.
"Remind your critics when they say you don't have the expertise or experience to do something that an amateur built the ark and the experts built the Titanic"—Peyton Manning
---
15. The only thing you can truly fail at is failing to try again.
"I can accept failure, everyone fails at something. But I can't accept not trying again"—Michael Jordan
---
16. Carve out your own path.
"Today I will do what others won't, so tomorrow I can accomplish what others can't"—Jerry Rice
---
17. Again, body over mind. Don't let your mind limit you.
"I'm stronger than I think I am. Mentally, physically"—Misty May-Treanor
---
18. It doesn't matter what anyone else thinks.
"You can quit if you want, and no one will care. But you will know the rest of your life"—John Collins
---
19. It all starts with a dream.
"Never underestimate the power of dreams and the influence of the human spirit. We are all the same in this notion: The potential for greatness lives within each of us"—Wilma Rudolph
---
---
20. Sleep is also super important.
"I got to bed every night thinking about all the ways that I can succeed"—Ronda Rousey
---
21. The possibilities are endless.
"I already know what giving up feels like. I want to see what happens if I don't"—Neila Rey
---
22. Talent can only get people so far.
"Hard work beats talent when talent doesn't work hard"—Tim Notke
---
23. The Rock knows best, too.
"Success at anything will always come down to this: focus and effort. And we control both"—Dwayne "The Rock" Johnson
---
24. Give everything you do your all.
"Push yourself again and again. Don't give an inch until the final buzzer sounds"—Larry Bird
---
25. Laugh at others who doubt you.
"My coach said I run like a girl. And I said if he ran a little faster he could too"—Mia Hamm
---
26. When you stumble, process it and move on.
"What to do with a mistake: 1. Recognize it, 2. Admit it, 3. Learn from it, 4. Forget it"—Dean Smith
---
27. Don't worry about getting it exactly right every time.
"It's not about perfect. It's about effort. And when you bring that effort every single day, that's where transformation happens. That's how change occurs"—Jillian Michaels
---
28. Make a name for yourself.
"I don't wanna be Jordan, I don't wanna be Bird or Isiah, I don't want to be any of those guys. I want to look in the mirror and say I did it my way"—Allen Iverson
---
29. Your body is amazing. Believe it, and believe in it.
"To have any doubt in your body is the biggest weakness an athlete can have"—​Shawn Johnson
---
30. And finally, a helpful mantra for when you're running.
"A.B.F.T.T.B. Always be faster than the boys"—Mikaela Shiffrin
---
---
If you're looking for a little inspiration, we've got the best quotes to share and savor. For quotes from the most inspiring celebs, activists, and poets, look no further! You might even find the quote that motivates the best parts of your life (and love!) forever.
---
Alison Cerri is an editorial intern and writer at YourTango. When she's not writing about pop culture, astrology and trending topics, she can be found on a run or at rugby practice.
---